Q&A: What To Expect From Our Part-Time Masters Learning Advisor Service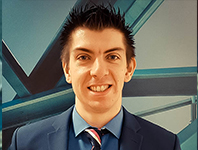 Prospective students for our part-time Masters programmes have the benefit of a dedicated and highly personalised advisory service from our Learning Advisor Team. With extensive knowledge of all of our part-time Masters programmes, as well as all the financing options available, our Learning Advisors ensure that all prospective students have all the information they need as quickly as possible. Here Senior Learning Advisor, Declan O'Loughlin, answers our questions about part-time study with Northumbria University London.
Tell us a bit about yourself…
I am originally from Ireland and moved to London in 2015. I am an avid sports fanatic, regularly playing Gaelic Football for a club here in the City. My colleagues are always jealous of my home made lunches, particularly my chilli chicken and rice, and I am always trying out new recipes. However, all this food does mean I have to visit the gym as often as possible!
What role do you currently have at Northumbria University London?
I have been working with the part-time programmes at Northumbria University London for almost 3 years and January 2018 will be my 9th intake of advising students on their studies.
In a nutshell, my primary focus is ensuring that prospective students have all the information they need to choose the right MSc for their development goals. As you can imagine, prospective students have a multitude of questions before embarking on their Masters journey, and I am available on the phone, on campus or for 1:1 catch ups over a coffee.
So what can a prospective student expect from their Learning Advisor?
As part of my role, I give all prospective students advice on:
Course information and modular content
Eligibility requirements
Financing options
Application process
I think the eligibility requirements is a really important one to cover, particularly for prospective students who have not studied at undergraduate or postgraduate level before. Both the professional and educational background of each student is taken into consideration during the application process. This means that an undergraduate degree is not mandatory to gain entry to our programmes. If you have any doubts or concerns on your eligibility, be sure to contact our team, that is what we are here for!
Our website also has some fantastic blog posts which delve into topics related to our Masters programmes, as well as guides for applying online and detailed infographics and blogs focusing on key industries such as cyber security or project management.
What is your favourite part of your role?
Our Enrolment and Induction Events are held at the start of each intake and offer all students the opportunity to finalise paperwork, meet their fellow students and key faculty members. For me, this is also a fantastic opportunity to meet all the wonderful people I have been speaking to on the phone or via email for so long. I feel part of their learning journey and finding out about how they are progressing is really rewarding for me. Hearing back from past alumni about how the Masters has benefited them in their personal and professional lives is another job highlight for me.
I am thinking of undertaking a part-time Masters programme, what would your advice be to me?
One of the key concerns prospective students have is the time commitment involved with Masters studies – particularly around their existing work commitments. I always recommend that students follow our Top 10 Study Tips, which gives some great advice on how to balance your various commitments. One of the most important tips is allocating a dedicated study slot every day and keeping up to date with developments within your field of study. Simply reading regular news articles or listening to podcasts can be really beneficial to a students' studies.
From my own experience of undertaking postgraduate study, it's really important to take advantage of all the facilities available within the university, particularly the Student Support Team. Also, as Northumbria University students, they have access to and benefit from the extensive online library.
When does the next intake start and where?
As the majority of our programmes have intakes three times a year in January, June and September, there is always an intake on the horizon! Our next intake will be January 2018 and we are already accepting applications from eager students. The campus itself is ideally located in the heart of London, near Liverpool Street Station and Fenchurch Street Station. You can view our virtual tour of the campus or of course, you can arrange a campus visit with us.
Ok, I'm interested. How can I get in contact with the team?
That's great to hear! Our team is available at pt.admissions@northumbria.ac.uk or 0207 444 0980. You can contact me personally on 0207 695 8463 or email declan.oloughlin@northumbria.ac.uk. All available part-time programmes are listed on our website, giving you additional programme information to view.
I can't wait to help you get started on your journey with us.